Sushi: great for lunchboxes, as a gluten-free option for platters but soooo expensive when you buy it out. Once you've made it at home a few times you'll never pay the big bucks again.
Tips for making great sushi
Use the same brand of rice each time so you can master the water to rice ratio as well as the cooking time.
Have a bowl of water nearby as you roll the sushi. Use the bowl of water to remove sticky grains of rice from your fingers as well as wetting the edge of the seaweed paper to seal the end.
Always a sushi mat and have all ingredients on hand before you start.
Don't use too much rice. You only need a thin layer.

Sushi rice lasts in the fridge for 3 days ready to roll fresh rolls when you need it. 

Always make fresh for the day don't try and roll sushi the day before as the rice hardens and the nori goes soggy.
Sushi seasoning is an easy way to avoid having to get the correct ratio of sugar, salt and rice wine vinegar.
Most supermarkets have a good range of Japanese products now. You can buy Japanese mayonnaise, soya sauce, wasabi, pickled ginger, nori paper, sushi rice and even the mats in most supermarkets in the Asian section.
See video here. (I personally make my hosomaki rolls using a half sheet of nori.) How to roll different types of sushi.
Ingredients
1 cup sushi rice
2 1/4 cups water (plus more as needed)
1/4 cup sushi seasoning
Nori seaweed paper
Filling: avocado, cucumber, chicken, tuna… etc
Mayo, soy sauce, wasabi and ginger to serve
Method
Cook rice in boiling water for 14mins then check to see how it's going. If the rice still has a bite to it but the water has evaporated then add 2 Tb extra water and cook for another 2 minutes. Repeat this step until rice is cooked. I personally use the microwave (which I'm not usually a fan of but I find it the easiest method to cook rice).
Once rice is cooked, stir sushi seasoning through rice cover and leave covered to cool.
Use the mat to roll the rice and filling on nori rolls. See above tips.
Notes
We make these in the baby size (half sheet of seaweed) or the larger hand roll size.
This recipe makes enough rice for 6×8 mini rolls or 3 large hand rolls.
Our favourite fillings are blanched asparagus, avocado or cucumber. Simple is best.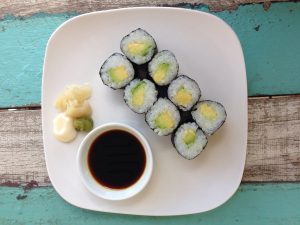 Enjoy,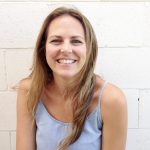 Subscribe now and receive 5 Ways to Save Time & Money in the Kitchen