It's no secret that I love Asian flavours. This recipe for Asian sticky ribs is full of flavour while still being simple and relatively healthy. You'll surprise yourself and impress your guests. Delish.
I've used both beef and pork for this recipe and the results are equally yummy.  Pork is more traditional but beef ribs were half price this week so it was a given.
Asian Beef 
Sticky Ribs Recipe
Ingredients for Ribs
2 kg ribs
2 kaffir lime leaves finely chopped
4 Tb lime juice (about 2 limes)
1 tsp Chinese five-spice
4 garlic cloves minced
1 Tb oil (I used peanut oil, but light olive oil will be fine too just nothing with a strong flavour)
2 Tb soy sauce or Tamari
Ingredients for sticky glaze
3 Tb Smokey BBQ sauce
1 1/2 Tb lime juice
2 garlic cloves minced
1/4 tsp chilli powder
1/2 tsp Chinese five-spice
1 1/2 Tb soy sauce
1-2 Tb brown sugar
Method
1. Brown ribs with a little oil and salt. Then set aside.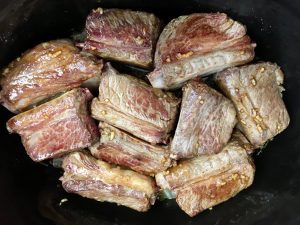 2. Place kaffir lime leaves, lime juice, Chinese five-spice, garlic, oil and soy sauce in a slow cooker and mix together. My image shows frozen lime juice cubes as that's what I had on hand- I make them up in bulk when citrus is cheap to add to drinks, salads and cooking.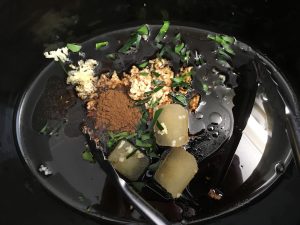 3. Place browned ribs onto the marinade and turn ribs to coat.
4. Cook in the slow cooker turning once or twice until meat begins to fall off easily. This will differ from slow cooker to slow cooker and also depending on what setting you use. For my slow cooker, I cooked on the high setting for four hours before the meat began pulling away.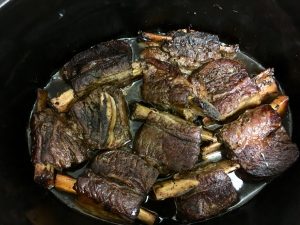 5. To make the sticky rib sauce place kaffir lime leaves, lime juice, brown sugar, Chinese five-spice, garlic and smokey BBQ sauce into a small pot on the stove.
6. Simmer on a low heat until the sauce thickens and reduces a little. (About 8 mins)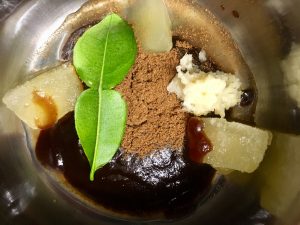 7. Place ribs on a plate and drizzle sauce over the top. (Alternatively, if you have the time add half of the sticky sauce to a large saucepan and flash cook the ribs so that the sticky sauce really coats the ribs. Then remove from pan and drizzle with remaining sauce.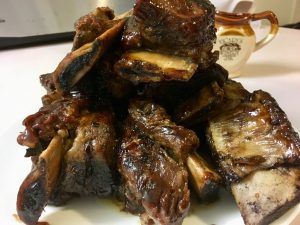 8. Serve with a fresh salad or your choice of rice or bread rolls. An easy dressing of lime juice and olive oil goes well for an accompanying salad.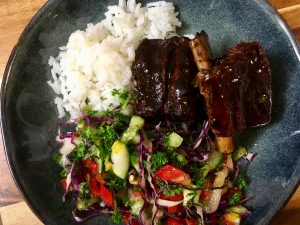 Oh… here's another option. The day after I made this recipe we went over to a friend's house for dinner. I shredded the meat off the ribs and mixed in the sticky sauce and served in cos lettuce cups, bean thread noodles, nuts and fresh lime. As my friend is vegan I made up a mushroom batch with the sticky sauce that was equally as yummy.