Adding Spiced pears to a cheese platter will instantly bring a level of elegance and a personal touch. This gorgeous recipe is quick and easy to make but it looks so great you'll impress yourself. Enjoy over the Christmas season or anytime really.
Spiced Pears
Ingredients
Juice and rind of 1 lemon
1 1/2 cups hot water
1/2 tsp black pepper corns
2 fresh bay leaves
1 cinnamon quill
2 Tb honey
2 Tb caster sugar
1/4 cup port or wine of choice
3 large or 4 small pears peeled, cut in quarters and deseeded
Method
Place all ingredients in a large saucepan or pot and stir to combine.
Turn heat up to a low simmer and continue to cook until mixture becomes thick and pears are soft (approximately 30 minutes).
Allow to cool.
Serve with cheese and crackers.
Tips
If heat is too high and liquid evaporates before the pears have cooked through, add a little extra water to allow the pears more cooking time. 
Spiced pear mix keeps for up to 2 weeks in the fridge.
Try serving spiced pears with camembert cheese, a soft blue cheese or vintage cheddar.
For a refined sugar version then replace the sugar and honey with 1/3 cup of rice malt syrup.
Around the festive season, they can be given as a beautiful gift in a little glass jar.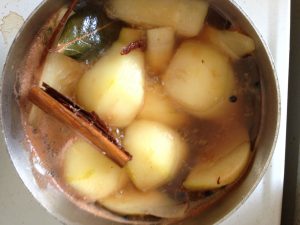 Spiced pear ingredients in the pot simmering away.
Happy Cooking,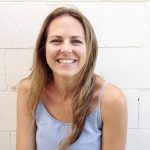 Subscribe Now and receive my FREE menu planner!