Welcome the Christmas season in a healthy and delicious way with this sugar free pumpkin pie.
After joining a friend's Thanksgiving dinner a few years ago I fell in love with the idea of a Thanksgiving meal. While our meal didn't have the traditional American heritage the idea of a shared meal with a focus on what we are thankful for did the heart wonders. Being thankful goes a long way. Hope you enjoy this one. It happens to be one of my most favourite recipes to photograph too. It just looks so yummy!
Sugar Free & Pumpkin Pie
Ingredients
2 & 1/2 cups almond meal
1/3 cup (80g) unsalted butter melted

1 & 1/2 cups Jap or Kent pumpkin (cooked and blended)

3 eggs

1/4 cup rice malt syrup

400ml (3/4 cup) coconut cream or regular cream

2 Tb cornflour or arrowroot

1 tsp fresh grated or ground ginger

1 tsp lemon zest

1 tsp ground cinnamon

1/4 tsp nutmeg (or mixed spice)

1/4 tsp cloves (or mixed spice)
Method
Preheat oven to 180ºC.
Mix the almond meal and melted butter together and press into a 22cm pie dish.
Cook in the oven for 15 minutes or until just starting to brown.
Allow to cool on bench or fridge.
Blend all other ingredients together either in a blender, bullet or using a mixmaster and pour into cold pie crust.
Cook pie for about 50 minutes or until the centre is set. (It will firm up more as it cools).
When cool place in the fridge to set overnight and serve with fresh cream or coconut cream.
Notes
This pumpkin pie slices beautifully straight out of the fridge and is nice cold or brought to room temperature. Some like it hot, but who am I to judge.
Sliced into individual portions, this recipe is great for the freezer. It defrosts well making it perfect for lunch boxes or a home treat.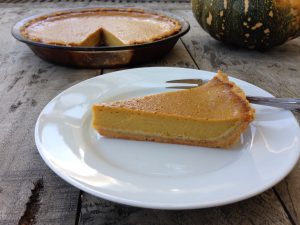 Happy Baking,
Carly xx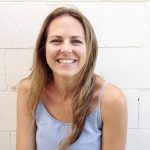 Subscribe now and receive 5 Ways to Save Time & Money in the Kitchen