This dumpling sauce recipe never disappoints. You'll mix it up from items in your pantry, drizzle it over your dumplings, add some fresh herbs and feel like a superstar in the kitchen. Yes, please!
Lately, dumplings have been my jam. I have a thing for Asian food, all of it. From street food to the fancy stuff, it's generally packed with flavour and heaped with love. While I generally shun packaged anything, these frozen dumplings from Mr Chen's are changing my life! Mr Chen's Prawn and Ginger is my pick. This simple recipe will elevate your midweek meals. The only problem is it feels possibly just a little too fancy… Be fancy!
If you're keen to make dumplings from scratch try my chicken and corn dumpling recipe.
Dumpling Sauce Recipe
Ingredients
4 Tb white vinegar
4 Tb sweet chilli sauce
2 Tb sesame oil
2 Tb soy sauce
Method
Measure ingredients into a jar.
Shake.
Pour over dumplings fresh out of the pot.
Yep. That's it. Told you it was easy.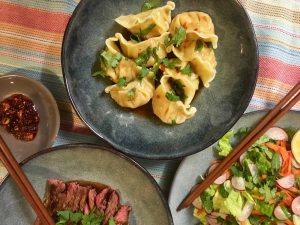 Tips
Try cooking the dumplings for a minute or two longer than suggested. That's my preference.
Dumpling sauce will keep for weeks in the fridge in the sealed jar.
It's equally good on salad, steak, through noodles or anything Asian inspired. (See below)
If you like a chilli kick, next time you're in an Asian grocer buy some roasted chilli oil. It's mainly chilli and a few roasted nuts and it is yum!!!
No need for special dumpling cooking equipment. Many of Mr Chen's range just need a pot of boiling water.
Inspiration for adding salad and steak…
My favourite accompaniment to dumplings is a thinly sliced steak, and a salad of lettuce, carrot, radish and some fresh mint and coriander. Cucumber is a friend to this salad too. A squeeze of lime, a splash of sesame oil and a sprinkle of salt and it will bring some health and freshness to the dumplings. Check the ingredient list, they are actually pretty great in terms of using actual ingredients.