This simple recipe for garlic bread is better than anything store bought and there is the added bonus that you can make it with your bread of choice. It's a great way to bring stale bread back to life too.
Homestyle Garlic Bread
Ingredients
3 Tb salted butter softened
1 clove garlic crushed
1/4 tsp oregano
Bread of choice sliced thinly*: eg Sourdough, bread rolls, bread stick, Turkish bread, even regular sliced bread.
*If using a loaf or bread rolls, don't cut all the way to the bottom of the bread so that it stays together like traditional garlic bread.
Method
Pre-heat oven to 180oC (moderate).
Mix butter, garlic and oregano together in a small bowl.
Spread garlic butter thinly on each slice of bread and cover the whole thing with aluminium foil.
Bake in an oven for 15 minutes.
If you prefer a crispy garlic bread then just remove the aluminium foil and cook for an extra 5 minutes.
Tips and tricks
For herb bread just add and extra 1/4 tsp of mixed herbs and omit the garlic. Parsley is a nice addition to herb bread too. 
Using freshly crushed garlic means that you won't have the same trouble with garlic breath as you would if you use the crushed garlic in a jar. The stuff in the jar (commonly used) will give you terrible breath.
Save your stale bread to use in this recipe. The garlic butter will soften the bread bringing it back to life and saving on waste. You can always prepare it up to the oven stage too and just put it in a zip lock back and freeze it until you are ready to use it.
Happy cooking,
Carly xx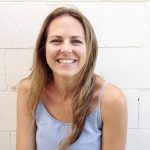 Subscribe now and receive 5 Ways to Save Time & Money in the Kitchen