This incredibly tasty banana bread was made for me by a friend when I had my second baby. It was so good I felt naughty every time I had a piece. When I asked for the recipe and couldn't believe how healthy it was. Enjoy!
Ever found yourself needing a sugar-free, wheat free, dairy free (we all have those friends) recipe and felt stuck? Here is your answer. This recipe tastes amazing.
Banana Almond Sugar-Free Loaf
Ingredients
1 cup of almond meal (110g)
¼ cup of coconut flour (40g)
¼ cup of LSA (10g)
¼ cup shredded coconut (20g)
1/2 tsp of bicarb soda (plus 1/2 tsp cream of tartar if you have it)**
1 tsp cinnamon (2g)
2 Tbs coconut oil
3 eggs
2 ripe bananas mashed (1 cup or just under)
¼ cup rice malt syrup
*LSA is a mix of ground linseed, sunflower seed and almonds. This can be found in most supermarkets in the health food section. Alternatively, you can substitute for extra almond meal.
**Bi-carb soda and cream of tartar together make up baking powder. I find baking powder gets old quickly after opening so bicarb soda and cream of tartar gives a better result. I have made this recipe without cream of tartar and the difference is minor.
Method
Preheat the oven to 200C and line a loaf tin with baking paper
Mix all dry ingredients together in a bowl
Mix all wet ingredients in a separate bowl
 Add the wet ingredients to the dry ingredients and mix together until well incorporated
Pour the mixture into the loaf tin and flatten mixture down
Place in the oven for 40min or until golden brown and you can insert a knife into the centre and have it come out clean. If it is not quite cooked just keep checking every 5 minutes.
Remove from tin when cooked and allow to cool before slicing
Tips and tricks
This recipe will freeze well in individually wrapped portions, perfect for lunch boxes or a ready made snack.
Try toasting slices of the banana bread in a sandwich press for an easy way to reheat it.
Overripe bananas work best for this recipe. If you have overripe bananas but can't find the time to make banana bread, just peel the bananas and pop into a ziplock bag and freeze. They will keep for weeks then when you have the time to make the bread, simply defrost and mash ready for use. They may look extra brown after hibernation but I assure they will be fine.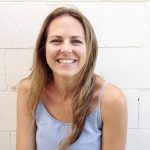 Subscribe now and receive 5 Ways to Save Time & Money in the Kitchen