I first made this soup out of the desire to use up the tired vegetables sitting in the bottom of my fridge at the end of a week. I use different veggies every time, and it always works out well.
Nourishing Vegetable Soup
Ingredients
2 onions chopped
1 Tb oregano
1/2 tsp chilli flakes
1 tsp sea salt
4 garlic cloves crushed
2 carrots chopped
2 sticks celery chopped
4 tomato tins full of water (1.5 L approx)

2 x 400g tins crushed tomatoes

2 large handfuls celery tops* finely chopped

left-over vegetable** chopped into small pieces I used about 5 cups of chopped veg for this. But really you can add as much as you like. Just add a bit of extra water to cover if needed.
Method
Chop all veggies ready for use.
In a large saucepan heat the oil on medium and cook the onion until soft and slightly brown.
Add oregano, chilli and salt and stir for 30 seconds.
Add crushed tomatoes, water carrot, celery and all other veggies and bring to the boil.
Turn the heat down to a simmer and cook for 20mins or until the veggies are soft continuing to add more water if it reduces too much.
Season with salt and pepper to taste.
Serve with some crusty bread or toast and a sprinkle of grated Parmesan.
Tips and tricks for Nourishing vegetable soup
Cut the edible stalks of the celery off and set aside for lunchboxes etc then chop up the rest of the celery (the leaves and thin stalks that usually end up in the bin) to use in the soup.
For the soup featured in this photo, I used a leftover bok choy, some broccoli stalks (cause we had eaten the florets) and a bit of leftover capsicum. This was in addition to the carrot and celery mentioned in the ingredients list.
Beans, potatoes, broccoli, cauliflower, corn, extra carrots, any vegetable you can think of had been throw into this soup at some point and it always works out well. 
When using root vegetables such as potatoes, carrots or anything that takes a little longer to cook then make sure you cut them up very small so that they cook properly.
Double the amount of onion, herbs, garlic, tinned tomatoes and water used if you are wanting to use up a lot of extra vegetables.
For a complete meal, add 1-2 chopped chicken breast when adding the veggies. Alternatively fry 250g mince in with the onion.
Fresh parsley chopped works really well mixed in. Just throw in at the last minute.
On a personal note…
I freeze this soup in little zip lock bags ready for an easy lunch or veggie boost if the rest of the family is eating something a bit more carb-laden.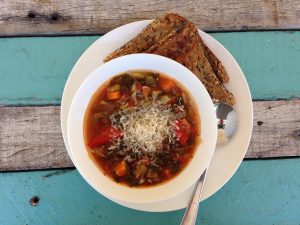 Would love to know how you go with this recipe,
Carly xx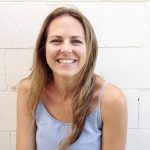 Subscribe now and receive 5 Ways to Save Time & Money in the Kitchen