Thai Beef Salad is fresh, full of flavour and works just as well for lunch, dinner or an afternoon snack. It's the ultimate crowd pleaser in the warmer months. It's the dressing that makes it amazing so have fun experimenting with different veggies, salad ingredients as well as different proteins.
Thai Beef Salad Recipe
Ingredients
2 steaks (or 4 if you want extra protein per serve)
100g bean thread or vermicelli noodles
Salad
1 bunch of asparagus
2 carrots peeled into ribbons or grated
1 red capsicum sliced
2 handfuls of snow peas
1/2 continental cucumber deseeded and cut into batons or 1 zucchini peeled into ribbons
2 handfuls of bean sprouts or thinly sliced iceberg lettuce
2 Tb fresh mint
2 Tb fresh coriander
1/3 cup peanuts
fresh coriander and lime wedges to garnish
fresh or dried chilli flakes (optional)
Dressing Ingredients
1/2 cup sweet chilli sauce
1/4 cup lime juice (1-2 limes)
1/4 cup sesame oil
1 Tb fish sauce (can use salt to taste if preferred)
2 garlic cloves crushed
Method
Steaks: Heat a frying pan over medium-high heat. Season steaks with salt and oil and cook for 3 mins per side (or until done to your liking- medium works well for this). Remove steaks from pan and leave them to cool. When cool, slice thinly and mix with a little of the dressing until needed.
Noodles: Place noodles in a bowl and cover with boiling water for 5 minutes. Drain and rinse with cold water.
Greens: Trim asparagus and snow peas then place in a bowl and cover with boiling water for 2 minutes. Drain and immerse in cold water until ready for use.
Carrot: With a veggie peeler or spiral veggie pasta maker create strips of carrot. If using zucchini do the same with the zucchini.
Capsicum & Cucumber: Slice capsicum into strips, cucumber into batons.
Chop coriander and mint finely.
Dressing: Place all ingredients in a jar and shake.
Assembly: Place meat, noodles, veggies and herbs in a bowl and toss with the 2/3 of the dressing. Top with nuts and extra coriander. Serve with the remaining dressing on the side.
Optional: serve with fresh lime wedges, fresh or dried chilli and the remainder of the dressing.
Tips & Tricks
If taking to a BBQ or prepping the day before, keep the prepped veggies, dressing, cooked/cooled noodles, steak and peanuts in separate containers and mix together at the last minute. This way everything retains its freshness and crunchiness.
This recipe yields a large amount. If you are making a dinner for two, you could use half the quantities. However, I find that it is so yummy for lunch the next day that a large batch suits me just fine.
Variations
Experiment with different salad ingredients and veggies. Blanch any greens (peas, broccoli, beans, asparagus, snow peas) by pouring boiling water over them and leaving for 2-5 minutes (depending on size) then run them under cold water to refresh. Even the most basic salad will come alive with the Thai dressing.
Swap the steak for chicken breast, prawns, fish or tofu.
For a more filling meal double the amount of noodles or protein used.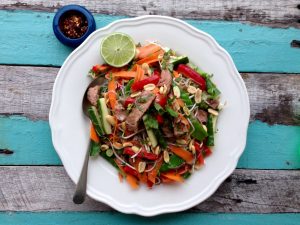 Until next time happy cooking,
Carly xx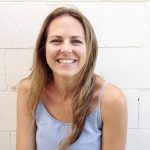 Subscribe now and receive 5 Ways to Save Time & Money in the Kitchen