Sticky Date Pudding is a family favourite and this recipe is too good to resist.
I'm yet to try a sticky date pudding that I like better than the recipe below. It took months to perfect because I wanted the perfect balance of sweetness, lightness and… don't even get me started on the butterscotch sauce. This one probably won't make the diet plan but it's totally worth it!
Best Sticky Date Pudding Recipe
Ingredients
1 1/4 cups of chopped dates
1 1/4 cups water
1tsp bicarb soda
60g butter chopped *additional for sauce- see below
3/4 cup brown sugar *additional for sauce- see below
2 eggs
1 tsp vanilla
1 1/2 cups self-raising flour
Butterscotch Sauce
60g butter
1 cup brown sugar
1 cup cream
I Tb golden syrup
1 tsp vanilla
Method
Pre heat oven to 170C and line a rectangular tray (20x30cm) with baking paper.
In a large saucepan simmer dates and water for five mins. Alternatively, put dates and water in microwave in a large microwave safe bowl.
Add bicarb soda and stir before heating for another 30 seconds.
Take off heat and leave for 5 minutes to allow dates to soften. Stir dates with a fork to break them up.
Add butter, sugar, eggs and vanilla to the date mixture and mix until butter melts.
Sift in self-raising flour and stir until just combined then pour into lined pan.
Bake at 170oC for 30-40mins or until firm to touch.
Serve Sticky date pudding in slices, covered with hot sauce with ice cream or whipped cream.
Method for Butterscotch sauce
Put all ingredients into a saucepan and heat until sugar is dissolved and sauce begins to bubble.
Tips and tricks
Ensure mixture is not still too hot when adding eggs otherwise, they will scramble. 
I use a large saucepan or large glass bowl (for microwave) to minimise on the washing up.
This recipe freezes well using separate containers for pudding and sauce.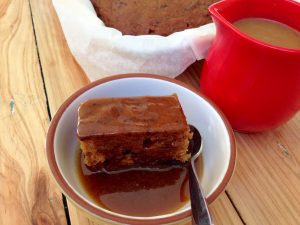 Enjoy xx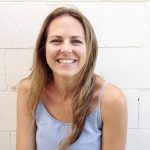 Subscribe Now and receive my FREE menu planner!