These sugar-free, raw chocolate treats make the perfect healthy alternative to processed chocolate over the Easter period. Raw cacao is full of magnesium and high in antioxidants, while coconut oil improves digestion and immunity.
Raw Chocolate: Sugar-Free
Raw chocolate is surprisingly good for you and easy to make. Just this week I picked up some Easter shaped silicone moulds from Coles and the kids can't wait to make some cute Easter shapes. My pet hate with raw chocolate is the white residue that forms when you put it in the fridge to cool but this can be avoided by adding a little coconut cream to the mix (who knows why, but it works though technically that makes it more of a fudge…) Or, by making the raw chocolate in a bowl and semi cooling it so that the edges are starting to set and mixing it together. I believe the technical term for that is tempering. Both versions taste great.
Unashamedly my favourite brand of coconut oil and cacao is lovingearth (no perks here just the truth). Its certified organic and tastes the best.
Ingredients
1/2 cup organic raw cacao
1/4 cup rice malt syrup (or 2 Tb maple syrup or honey)
3/4 cup coconut oil (1/4 first then 1/2 cup)
1/4 coconut cream or extra coconut oil
optional flavours- try toasted nuts or coconut, chilli powder, sea salt, strawberries or peppermint oils
When making a sneaky after dinner quick treat the amounts are as follows:
2 Tb raw cacao
1 Tb rice malt (or 2 tsp honey/maple syrup)
1 Tb raw coconut oil
3 Tb coconut oil extra
Method
Mix cacao, rice malt syrup and 1/4 cup coconut oil together in a bowl to form a thick paste. Mix until all lumps are gone.
Slowly mix in the extra 1/2 cup coconut oil until you have a smooth liquid chocolate mixture.
Mix in the coconut cream or extra coconut- see personal note for the difference.
If you are adding additional flavours, add them at this point. I love to line up little bowls and make small portions of a few different add-ins.*
Pour mixture into chocolate moulds or mini patty pans and leave in the fridge to set for at least 3 hours.
On a personal note
It took a few experimental mixtures to come up with this recipe as I kept getting white spots on the chocolate as it set. The coconut cream stops this, but you can leave it out for a firmer chocolate however you will get the spots. The extra step of adding more coconut oil gives you a smoother consistency otherwise, the rice malt syrup will separate from the mix.
This chocolate will melt at room temperature so technically it's more like fudge…but it will definitely hit the chocolate spot and is a great healthy alternative.
Variations
Chilli chocolate, add 2 tsp of chilli powder to the chocolate mixture and chilli flakes to decorate. 
Salted chocolate, grind some sea salt into the chocolate before refrigerating then sprinkle on a little extra after it sets.
Peppermint chocolate, add a few drops to taste.
Berry chocolate a small slice of strawberry or raspberry added into the chocolate mould is delicious also.
Coconut Rough, add 2 Tb toasted coconut into the mixture.
Roasted nut Chocolate, add 2 Tb roasted nuts (almonds, hazelnuts, macadamia etc).
Peanut butter cup- mix 2 Tb natural peanut butter with 1 tsp rice malt syrup and place in the base of a chocolate cup before pouring over raw chocolate.
*Ensure roasted nuts and coconut have cooled before adding to the chocolate mixture.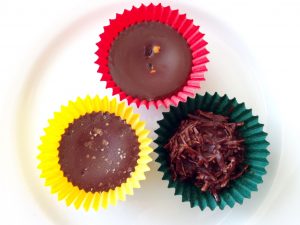 Easter Blessings,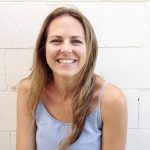 Subscribe now and receive 5 Ways to Save Time & Money in the Kitchen