This version of paleo pancakes tastes amazing, and the bonus is they're good for you too. Paleo pancakes are light, easy to digest and quick to make.
Topped with some seasonal fruit, Greek yoghurt or coconut cream and a sprinkling of paleo muesli they are so good you'll never bother with traditional pancakes again.
Paleo pancake recipe
Ingredients
1/3 cup banana mashed
2 eggs
2 Tb coconut flour
1 Tb almond milk (or alternate)
butter or coconut oil for frying
*If making for more than one person adjust quantities. This recipe is a generous portion for one person. Often, if I am not that hungry I'll have two small pancakes for breakfast and save the other for afternoon tea.
Method
Heat a large frypan over a medium heat.
Mash banana in a bowl then add eggs and mash together with a fork. (I've tried simplifying this recipe using a blender but the magic is in the hand mashed banana. If the banana gets too mashed or pureed as it does in a blender, then the mix gets too runny and won't cook properly.)
Stir in coconut flour and milk adjusting the amount to get the desired consistency. It should be similar to pancake batter only lumpy. (The size of the eggs will make a lot of difference to the texture of the mix. Small eggs give a thicker batter and thus more almond milk is needed whereas large eggs may need less or no almond milk.)
Add butter or coconut oil to the frypan then spoon batter onto the frypan pressing down to create pancake shapes.
When the pancakes begin to slightly bubble and become cooked on the edges flip and repeat on the other side until golden. (If the pancakes burn quickly the heat is too hot. The natural sugar in the banana makes them brown faster than traditional pancakes.)
Serve with your choice of accompaniments.
Cooked pancakes will keep covered in the fridge for a few days. Perfect for a brekky or snack on the run.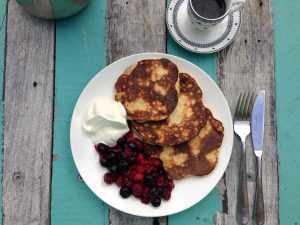 Tips & Tricks
These may take a couple of times to practice before getting the cooking right. My first couple of batches kept breaking or burning.

The key is to keep them small, three or four per batch and not have the heat too high.

All coconut flours are slightly different so you may need to play slightly with the amount of almond milk and coconut flour— almond milk to make the mixture thinner, coconut flour to make it thicker.

I use cavendish bananas in this recipe as I don't like the texture tha ladyfingers

give when cooked.
Hope you enjoy these as much as I do,
Carly xx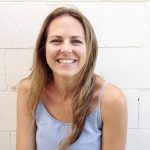 Subscribe now and receive 5 Ways to Save Time & Money in the Kitchen