This delicious crunchy Paleo style muesli is a great topper for fresh fruit, smoothies, yoghurt or fantastic on its own as a quick and yummy snack on the run.
Paleo Style Toasted Muesli
Ingredients
1 1/2 cups shredded coconut
1 cup pepitas
1 cup sunflower seeds
1/2 cup sesame seeds
1/2 cup whole or halved nuts (macadamia, almond or hazels)
1/2 cup slivered almonds
Method
Pre heat oven to 160oC
Place the pepitas and sunflower seeds in a large baking tray and bake for about 15 mins* or until slightly golden. (Every oven is different— it depends on the size of your tray and how spread out the nuts and seeds are.)  Check on the nuts and seeds every 5 minuts and stir in any seeds that are turning golden quicker than others. When all golden, remove and keep to one side. *
Repeat step 2 with the whole nuts, then again with the slivered nuts. *
Toast sesame seeds in a frypan or wok on medium heat until they begin to go golden then remove from heat and set aside. *
Toast the coconut in the baking tray for 5-10 minutes or until golden. (Watch the coconut as it can go from white to brown quickly.) Put to one side.
Mix the toasted coconut, seeds and nuts altogether and store in an airtight container.
Variations
Substitute different nuts and seeds each time you make it. Hazelnuts, macadamias and almonds are my favourites. I generally use whatever seeds and nuts I have in the pantry.
With dried fruit: Add sultanas, currants, apricots or whatever dried fruit you like. Our family just prefers it without.
Alternative cooking methods-
Dry fry the seeds, nuts and coconut in separate batches using a wok/pan instead of the oven. They need to be done in separate batches as each seed and nut type take different amounts of time to toast.
Roast all seeds and nuts together in one go. The result is not quite as good, but it's great if you are short on time. Be sure to do the coconut separately, though, as this one is the first to burn.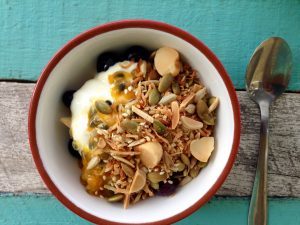 Until next time happy cooking,
Carly xx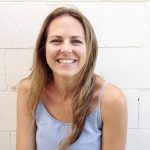 Subscribe now and receive 5 Ways to Save Time & Money in the Kitchen