Simple, tasty side dishes are invaluable. Asparagus is at its best in Spring and through Summer, and this side is the perfect accompaniment to steak, chicken, grilled salmon, a poached egg or just on its own as a salad. Simple, light and delicious.
Asparagus side or salad
Ingredients
1 bunch of asparagus with the ends trimmed
1 Tbs olive oil
1 lime squeezed
100g feta (I love Barambah Organic Feta)
2 Tb almond slivers roasted
Method
After trimming the asparagus, place in a heat safe bowl and generously cover with boiling water for 2 minutes. Drain and refresh under cold water.
Place asparagus in a salad bowl and toss with feta, olive oil, lime juice and roasted almonds.
Serve with extra lime wedges.
Great as a side to be shared with friends or serves two as a salad to accompany grilled chicken, salmon, steak or poached eggs.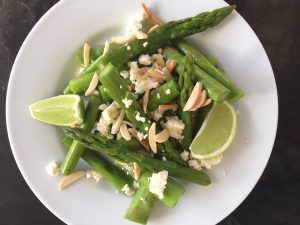 Until next time happy cooking,
Carly xx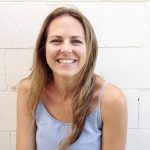 Subscribe now and receive 5 Ways to Save Time & Money in the Kitchen