Back to school and work always hits me with a 'what do I feed our family?!' cry of despair. This recipe for Muesli Bars packed with goodness is just one of the answers. It's perfect for kids lunch boxes or as an adult snack with a cuppa too.
Muesli Bars
Ingredients
1 1/2 cups rolled oats
1/3 cup desiccated coconut
1/3 cup chopped dried apricots or cranberries
1/4 cup shredded coconut*
1/4 cup pepitas (pumpkin seeds)

2 Tb sesame seeds

1/4 cup sunflower seeds

2 Tb flour (plain or spelt)
1 Tb chia seeds (optional)
1/2 cup rice malt syrup or honey
1/3 cup coconut oil (or melted butter)
1/2 tsp vanilla
*Shredded coconut is added for texture. Substitute with additional desiccated coconut if preferred.
Method 
Preheat oven to 180C
Mix all of the dry ingredients together in a bowl.
Mix rice malt syrup, melted butter (or coconut oil) and vanilla together in another bowl. Use the microwave or stovetop to gently melt together if needed.
Pour the wet ingredients into the dry ingredients, mix well then press firmly into a slice tray lined with baking paper.
Bake for 20 minutes then take out of the oven, cover with a tea towel and press down to flatten and push together before baking for another 5-10 minutes or until golden.
Leave to cool before cutting with a sharp knife.
Keep in an airtight container in the fridge for two weeks, that is unless you eat it first.
Options for muesli bars
Add 3 Tb of slivered almonds for an 'apricot and almond' bar. Macadamias or others nuts work for a nice change too.
Use currants in place of apricots or omit the fruit altogether and replace with extra seeds or nuts.
For a wheat free version you can omit the flour it just doesn't hold together as well so press down hard in the last step.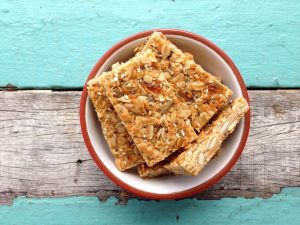 Carly xx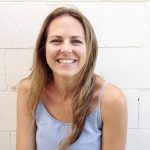 Subscribe now and receive 5 Ways to Save Time & Money in the Kitchen