It doesn't get much better than a cup of coffee and a plate of traditional yo-yo's. Yum!
As much as I like recipes that don't require scales when it comes to baking nothing beats accuracy. I have played with this recipe for months trying to create a simple recipe using measuring cups but the reality is that depending on how long the dry ingredients have been sitting and settled the results vary resulting in either a dry cookie (ain't nobody got time for dat!) or one that spreads on the tray as it cooks because they are too soft. My best advice? If you have scales, use them. Fail-proof!
These little melt in the mouth old school treats are particularly nostalgic for me. The original recipe was taken from a small humble green community cookbook that my mum bought as a fundraiser. It's the most used recipe in that book or perhaps the only one used. Every time I make a batch of cookies I picture it and have fond memories of baking with my mum.
These are honestly the best yo-yo's or melting moments you will ever eat. Melt in the mouth deliciousness with easy adaptations for a lemon kick, jam drops or just simple with icing or even sprinkles for the kids.
Traditional Yo-Yo's
Ingredients
300g (1 2/3 cups) plain flour

100g (2/3 cup) custard powder

100g (2/3 cup) icing sugar

300g unsalted butter cut into cubes (plus more for icing)

1 cup icing sugar

1 Tb milk

1 Tb butter

1/2 tsp vanilla
Method
Preheat oven to 180C and line a biscuit tray with baking paper.
Sift dry ingredients into a large bowl. I'll be honest here and tell you that I rarely sift my dry ingredients… unless I can visibly see lumps. A little mix with the fork also works wonders.
Add butter and rub with fingers until a ball of soft dough forms.
Using a Tablespoon scoop and roll balls of dough then press down with a fork to get the indentations.
Bake for 12-15 minutes or until just starting to brown on the bottom.
Allow biscuits cool and sandwich together with icing.
Alternatives
To make the biscuits go further ice them singularly. If you are making them for kids you can also add sprinkles.

To make lemon icing add the zest of half a lemon and a squeeze of juice instead of the milk.

For jam drops, use your thumb instead of a fork to press the dough down and add a spoonful of strawberry or raspberry jam in the middle.
Leave off the icing for a plain shortbread. Pretty when dusted with icing sugar.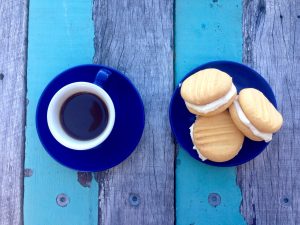 Happy Baking!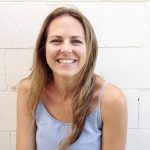 Subscribe now and receive 5 Ways to Save Time & Money in the Kitchen