You'll make this White Chocolate & Caramel Slice again and again. Seriously, every time I make it I think, "how can it be this good!" Give it a crack.
For some crazy reason, my daughter doesn't like chocolate (or cake- the list goes on…) but she loves white chocolate. So, for her birthday recently I made up this moreish slice and it was a huge hit with the adults and kids alike.
Carly's White Chocolate & Caramel Slice Recipe
Ingredients for base
1 cup plain flour
1/2 cup brown sugar
1/2 cup desiccated coconut
125g butter melted
Ingredients for caramel filling
395g sweetened condensed milk*
2 Tb golden syrup
60g butter
Ingredients for white chocolate topping
200g white chocolate* in pieces
50g copha chopped
Method
Base: 
Preheat oven to 180C. Line a slice tray (26cm x 16cm) with baking paper.
In a large bowl sift flour then add brown sugar, coconut and melted butter. Stir with a wooden spoon then press into lined slice tray.
Bake for 15mins or until slightly browned.
Caramel filling: 
Combine condensed milk, golden syrup and butter over a medium heat stirring constantly for 10 minutes or until the caramel goes a light tan colour (it will finish caramelising in the oven).
Pour caramel over base and bake for 10 minutes.** The caramel should start to bubble a little and go golden.
Chocolate top: 
Heat chocolate and copha either on the stove top or microwave on a low heat, stirring frequently until melted together.
Pour over the caramel and refrigerate for at least 4 hours or overnight.
Tips for White Chocolate & Caramel Slice
*Use quality brands for the ingredients, particularly the chocolate as you will really taste the difference- if you wouldn't eat it as it is, don't cook with it. 
Cheap brands of condensed milk have a floury texture and the caramel doesn't work as well as it should.  
Presentation is as important as taste with this slice. Use a shape knife and in between cuts wipe the knife clean. It's worth the extra effort.
Variation: Add roasted macadamias in the caramel layer before putting in the oven for an extra indulgent twist. 
Enjoy!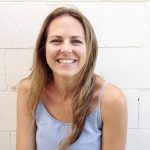 Subscribe Now and receive my FREE menu planner!