How do you use a meal planner?!
I used to laugh at people who had one of those cute little meal planners in the kitchen.
Who has time for that?
These days I'm more of the "who has time not to meal plan?" type person.
For those interested in giving meal planning a whirl I'd love to help you out. I've included a free meal planner at the end of this post as well as some reasons why you should give meal planning a go.
4 reasons you should try meal planning:
Meal planning saves time and mental energy. 

Yes, you have to block out half an hour to work it all out, but once you do, for the rest of the week, you don't need to give meals another thought.

Meal planning saves money. 

No more last minute trips to the shop to 'just get one thing' only to come out with eight things and another $40 out of pocket—those little trips add up!

No one argues with the meal planner. 

When it's written down, there's nothing to discuss. No debate, no 

whinging. 

There's a plan, and that simplifies a lot of conversations.

Meal Planning helps you feel organised. 

When you've planned and prepared food for the day, then every meal is an opportunity to feel like you are winning in life.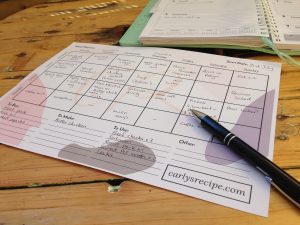 Whats the best way to meal plan?
Look at the week ahead alongside your diary and think about the flow of each day. Identify meals you'll eat out, eat on the run, need to prepare quickly and meals you'll have ample time to prepare for. 

End of the shopping week meals should be ones you can make with fewer ingredients. 

Read through a specials catalogue and write meal idea notes as you. For example, if lamb is on special then add in a Lamb roast, if a particular vegetable is on special then use that as a base for a meal. Whether your preference is Coles, Woolies, Aldi, or a local grocer, seasonal produce will always be cheaper, and specials can save you up to fifty percent off the full price.

Begin filling in the meal planner. Include your ideas that use specials, meals that include bulk prep (eg a big Spaghetti Bolognese with extras to go in the freezer for another time), some easy go-to meals, and some meals where half the prep has been done for you eg. something you have in the freezer from the last week or so such as Mexican Taco Mince, Slow Cooked Beef Cheeks in Red Wine, or Butter Chicken.

Write a shopping list as you go. Add the items you need based on the meals you want to include for the week. Shopping online gives you a running tally. If you are going over budget you can adapt accordingly. This might mean not buying the lamb leg and using something from the freezer instead, or it could mean leaving a bulk pantry item like olive oil off the list until next week. 
Tips for using a Meal Planner consistently
Have the meal planner on display in the kitchen. Either on the fridge or back of the pantry door seems to work well. Visibility means every time you think of something food related you can write it down or read it easily.
Check what the plan is each day and prepare. This might mean taking something out of the freezer to defrost, put the slow cooker on, pre-chop veggies or salad at breakfast for the night's meal.
Don't be a slave to your meal planner. It's a plan to help you not put you in a straight jacket. 

Use the sections to make it work for you. 

Swap the days if you don't feel like what's on offer for that day. The aim is to be more organised so you're not running to the shops every second day not have you hating life. 

Use your planner as a shopping list. As you run out of things during the week write them on your planner. When you go to do your plan and shop next week, you already have a list in hand to start with. Non-necessary items on the list can easily rollover to the following week or when you need them next.
Write down meals freezer meals. Freezer meals often go to waste because we forget about them. Write them down so you remember what's in there and can use them well.
Write down foods that need to be used as soon as possible. If ingredients or leftovers are in clear view you can prioritise using them as opposed to throwing them out.
Capture inspiration for next week anytime you see a recipe or idea you'd like to try. When you sit down to plan the following week, you'll start with a bunch of ideas. Ideas can rollover to the following week until they fit in your plan.
Add one focus each week. A focus could be a health goal or an organisational goal such as take lunch to work every day.
Subscribe Now and receive my FREE menu planner!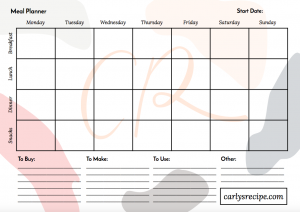 If you would prefer not to subscribe download my Free Meal Planner here.
Happy planning, and let me know how you go!