As soon as the nights begin to get cool at the change of season I begin thinking about this curry. Packed with chilli, loads of pepper and fragrant spices it's a must try for curry lovers. 
It takes a bit of extra effort to portion and grind the spices from scratch but it's totally worth it. For us, we make a batch then freeze it in portions making the time invested initially next to nothing when you consider it per meal. You'll love this one!
Best Beef Vindaloo Recipe
Ingredients
1.5kg diced beef (chuck steak or casserole beef)
2 large brown onions chopped
2 Tb oil
2 tsp black mustard seeds
1 Tb fresh ginger grated
6 cloves garlic crushed
1 Tb sea salt rocks* or ground
1 Tb cumin seed*
1 Tb dried chilli flakes*
2 tsp black peppercorns* or freshly ground black pepper
 2 tsp fenugreek*
10 cloves*
10 cardamon pods* (shells removed)
2 tsp chilli powder
2 tsp turmeric
1 tsp ground coriander
1/4 cup lemon juice
1/3 cup tomato paste
1 Tb sugar
1 cinnamon stick
1/4 cup fresh coriander chopped
Method
In a mortar and pestle or food processor crush salt, cumin seed, chilli flakes, black peppercorns, fenugreek, cloves and seeds from cardamon pods (all of the spices with the asterisk*) then set aside.
Dry fry mustard seed in a medium fry pan on medium heat until mustard seeds begin to pop then add oil and onions to the pan and cook on a lower heat until onion is soft (about 10 minutes).
Add in the crushed spice as well as the chilli powder, turmeric, ground coriander and stir for about a minute until all of the onion is coated and the spices begin to release their fragrance.
Add the garlic, ginger, lemon juice, tomato paste, sugar and cinnamon stick and stir until the mix is hot.
Place beef in a slow cooker and stir through the hot onion, spice mix.
Slow cook as per your slow cooker. Eg old school slow cookers may take 8 hours or longer until beef is tender, newer models may take as little as 4 hours if set on high. The main rule of thumb with slow cookers is keep cooking until the meat is tender.
Stir through the chopped coriander and serve with your favourite Indian accompaniments: rice, papadums, raita, chutney, or some simple mixed veggies or my favourite: Saag- spinach and cheese curry.
Tips and tricks
Potatoes work well in this curry although the finished result will not be as spicy so you may need to add more chilli.
Halve the amount of chilli if you don't like extra hot curries.
We never eat this curry without its curry buddy: 'Saag- Spinach & cheese curry.' The two complement each other beautifully. 
A pack of defrosted frozen spinach stirred through in the last hour of cooking works well.
This curry also works well with Lamb pieces.
If cooking on a stove top instead of a slow cooker add 500ml water or more if needed and simmer on low for two- three hours or until meat falls apart.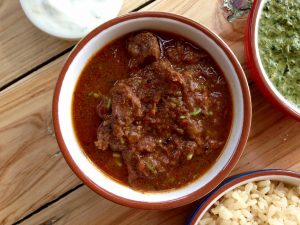 And seriously! Try it matched with the Saag…. to die for!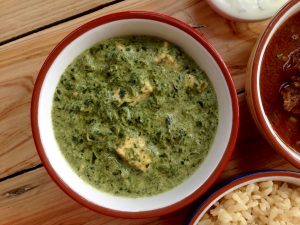 Enjoy xx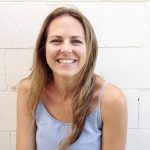 Subscribe Now and receive my FREE menu planner!