A vegetarian curry that is guaranteed to please everyone. Great on its own or as a side to a traditional spicy beef or lamb curry.
Best Spinach & Cheese Curry
Ingredients
1 Tb oil (peanut or a light olive oil- not extra virgin)
1/2 spanish onion chopped very finely
1/2 tsp cumin
1/4 tsp chilli powder (or more to taste)
1/2 tsp garam masala
1/4 tsp nutmeg
1 clove garlic crushed
1 pack defrosted finely chopped spinach*
300ml cream or coconut cream
100g hard feta or paneer chopped into small cubes
1 Tb finely chopped fresh coriander
Method
In a medium saucepan fry onion in oil on a medium heat until onion is soft. Do not brown.
Add cumin, chilli powder, garam masala, nutmeg and garlic and fry for 30 seconds or until fragrant.
Stir in defrosted chopped spinach and coat in spice mix.
Add cream or coconut cream, bring to the boil and allow to simmer for 10 minutes.*
Add feta and simmer for 1 min until cheese begins to melt and salt the curry.
Stir through freshly chopped coriander and serve.
Tips & Tricks
*If you can't find frozen finely chopped spinach the coarsely chopped spinach is still good but I often blend the mixture before adding the cheese to give the same result. You can use fresh spinach, baby spinach or silverbeet and blend before adding the cheese. Simply remove the spinach and cream mix from the heat and blend with a stick blender or bullet style food processor for a few seconds until the spinach is very finely chopped then return to pan before adding the cheese.
For a dairy free or paleo version use coconut cream and add salt to taste to replace the saltiness of the cheese.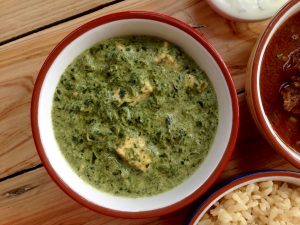 Enjoy xx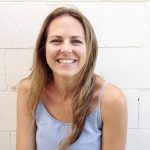 Subscribe Now and receive my FREE menu planner!