Baba Ghanoush is perfect for spreading on flatbread or dipping with veggie sticks. A homemade version tastes so much better than a star bought version and it's not full of nasties either. 
Carly's Baba Ghanoush Recipe
Baba Ghanoush Ingredients
1 Tb oil (plus more to drizzle)
1/2 spanish onion chopped finely
1 1/2 tsp ground cumin
1 tsp ground coriander
1/4 tsp dried chilli flakes
1 eggplant chopped finely
1 tsp sea salt
2 Tb water (or more if needed)
3 cloves of garlic crushed
2 Tb fresh parsley chopped or more if desired
1 Tb fresh coriander chopped or more if desired (optional)
1 Tb tahini
1/2 lemon squeezed (1 Tb)
2 Tb olive oil
Baba Ghanoush Method
Fry the chopped spanish onion in 1 Tb olive oil until soft.
Add the cumin, coriander and chill and stir until fragrant before adding the eggplant, water and garlic. Add more water and or olive oil as you cook the eggplant if needed. Cook the eggplant until it has softened (about 10 minutes).
 Take off the heat and allow to cool slightly.
Stir through fresh herbs, tahini, lemon juice, the extra 2 Tb olive oil and season with salt pepper if necessary.
On a personal note…
To freshen this dip add some finely chopped fresh tomato or capsicum. Keep the tomatoes fresh and depending on how you are feeling you can cook the capsicum with the eggplant or leave it fresh too.
Baba Ghanoush is a great side to grilled meats such as chicken or lamb and also goes well with any of the Greek dishes found on this site: Tzatziki, Lentil & Barley Salad, Slow cooked Greek Lamb and Greek Salad.
Until next time happy cooking,
Carly xx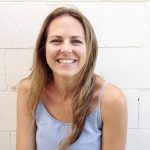 Subscribe now and receive 5 Ways to Save Time & Money in the Kitchen