This is my favourite Indonesian dish. I ordered it every day when holidaying in Bali. Fresh veggies and spicy, nutty, full of flavour satay sauce: what's not to love!
Indonesian Gado Gado Salad
Ingredients
half portion of satay sauce heated
1 head of Asian greens eg pak choy
assorted vegetables cut to size (eg carrot, beans, snow peas or broccoli)*
200g tofu cut into batons
1 Tb oil
a sprinkle of salt
2 boiled eggs cut into quarters
half Lebanese cucumber cut into batons
2 handfuls of bean sprouts
a handful of prawn crackers
Method
Heat a large pot of water and bring to the boil.
Prep the vegetables by cutting them into batons or bite-sized pieces then place them in the boiling water in order of what needs the most cooking eg: carrots first, then broccoli, followed by beans, Asian veg & snow peas*. Drain veg and assemble on plate.
Season the tofu with salt and fry in a pan with the oil, turning until all sides are golden.
On the assembled vegetables place the cucumber batons, egg quarters, bean sprouts, tofu and cover with satay sauce and prawn crackers.
Serve with lime wedges, coconut rice or regular rice.
Tips and tricks
Carrots and broccoli need the longest time to cook about 3+ minutes while everything else should only take a minute or two. You want the veg to still be crunchy so 'if in doubt take it out.'
You can use whatever vegetables or salad ingredients you have on hand. The amounts are rough as I always use a mix of whatever I have available. At times I have used potato too. Potato usually takes about 10 minutes to cook as you want it coiled properly, still firm but definitely not crunchy!
If taking to a BBQ or shared meal simply assemble the cooked vegetables and tofu in a heat safe bowl and have the cucumber, bean sprouts, satay sauce, and prawn crackers separate. When you arrive heat the veg and tofu together in the microwave for a few minutes then top with salad veg, heated satay sauce and finally the prawn crackers and lime.
Until next time happy cooking,
Carly xx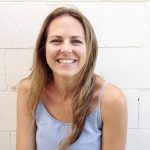 Subscribe now and receive 5 Ways to Save Time & Money in the Kitchen