A good Thai beef massaman curry is the epitome of comfort food. It's the perfect balance of heat, creamy coconut, a bit of chilli zing and tender slow cooked beef.  A perfect curry for all year round.
This recipe has a few steps, but it's still relatively easy and is worth the wait. It can be made ahead and reheated with great results too.
Thai Beef Massaman
Base Ingredients
1.25kg Casserole Beef or Gravy Beef
2 Tb Mae Ploy Massaman Paste
1 Tb fish sauce
4 kaffir lime leaves (optional)
1/2 tsp chilli powder
2 sweet potato cut into large chunks
Sauce Ingredients
1/3 cup desiccated coconut
1 Tb peanut oil
2 Tb Mae Ploy Massaman paste
2x 400ml cans coconut cream
1/2 tsp chilli powder
2 kaffir lime leaves
2 Tb brown sugar
1 Tb fresh lime juice
2 tsp fish sauce
3 Tb peanuts crushed
Roasted peanuts to serve
Method for Slow Cooked Beef
Brown beef in a little oil in a hot pan. (Optional step- If you're running short on time just move straight to step 2)
Spread the beef with the Massaman paste and put the beef pieces into a slow cooker with the fish sauce and kaffir lime leaves.
Cook for 4-6 hours or until the beef is beginning to fall apart. It can help to turn the beef halfway through the cooking time to allow the juices to go all the way through it.
Drain the liquid from the beef into a saucepan.
Add the chopped sweet potato into the beef liquid as well as extra water if needed to cover the sweet potato.
Simmer until sweet potato is softened but still holds its form. Take off heat. *Alternatively you can add the sweet potato in the last hour of the beef cooking.
Chop the beef into large chunks.
Method for the Massaman sauce:
In a wok or a large saucepan on a medium heat, toast the coconut until golden brown then set aside.
In the same wok or saucepan add the oil and Massaman paste stirring for 30 seconds until fragrant.
Add the coconut cream, chilli powder, kaffir lime leaves, brown sugar, lime juice, fish sauce and stir to combine.
Add the beef and sweet potato and allow to simmer for 5 minutes before adding in the toasted coconut and peanuts and stirring though gently. (Reserve a little extra of the coconut and peanuts for garnish if you like.)
Serve with rice.
Tip: This is a great recipe to portion out and freeze. It also works well for feeding a large group of people. Once the curry is cooked, it can be placed back into the slow cooker on low to keep warm leaving you free to entertain.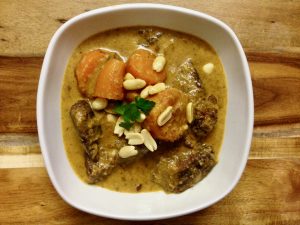 Happy Cooking,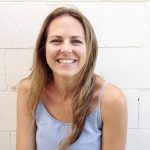 Subscribe Now and receive my FREE menu planner!