An essential accompaniment to any Greek meal or simply as a healthy dip.
Fresh Tasty Tzatziki
Ingredients
1 cup Greek yoghurt*
1/2 cup cucumber grated (excess water drained)
1 Tb chopped dill or mint (optional)
1 garlic clove crushed
1 Tb lemon juice (about 1/2 lemon)
1/4 tsp ground sea salt or to taste
Method
Mix all ingredients together and leave in the fridge for at least 2 hours or overnight to allow the flavours to develop.
Tips
For a thicker Tzatziki use 1 1/2 cups of Greek yoghurt and place the yoghurt in a sieve lined with a clean Chux cloth. Hang the sieve over a bowl to allow the whey to drain away, cover and leave in the fridge until you can see at least 1/2 cup of excess liquid in the bowl below. This will leave you with a thicker yoghurt to continue the recipe with as above.
Tzatziki will keep in the fridge covered for up to five days.
Never use garlic from a jar. Bottled garlic is the main offender for garlic breath. Freshly crushed garlic is better for you and will not have the same effect on your breath.
Make sure the garlic is finely crushed. If it is not crushed finely you will end up with chunks in your tzatziki.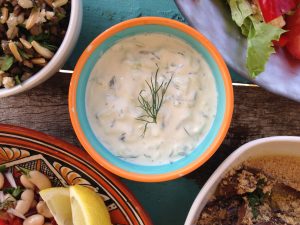 Let me know how you go,
Carly xx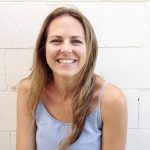 Subscribe now and receive 5 Ways to Save Time & Money in the Kitchen