Every two or three years this recipe features on our Christmas table. For those celebrating Christmas during Summer, Christmas Ice Cream Pudding is a winner. It's creamy, full of flavour and looks so festive. Variations for a sugar-free alternative are included.
Christmas Ice Cream Pudding
Makes 1 Litre and serves 8-10
Ingredients
150g dried fruit (raisins, dates, currants & cherries work well)
1 tsp grated orange rind
1/4 cup brandy
1/2 tsp cinnamon
1/2 tsp nutmeg
60g unsalted butter (3 Tbs)
1/4 plain flour
1/2 cup brown sugar* or 1/3 cup dextrose
1/2 cup milk
300ml cream (1/2 cup in step 2 then 1/2 cup + 2 Tb in step 4)
1/3 cup Nutella
2 egg yolks
2 Tb roasted hazelnuts roughly ground
50g dark chocolate 70% cocoa or more** melted
fresh berries and mint leaves to garnish
Method
In a bowl, mix fruit, orange rind, brandy and spices. Cover and leave in the fridge to soak overnight (or for up to a week).
In a saucepan on a medium heat, melt butter and then add flour, stirring until it bubbles. Stir in sugar, milk, and 1/2 cup of cream. Keep on the heat until the mixture thickens.
Take off the heat and stir in Nutella, then egg yolks, then marinated fruits. Cover with glad wrap and place in the fridge until cooled to room temperature (or cooler).
Beat remaining cream (1/2 cup + 2Tb), then fold it into the cooled pudding mixture. Place the mixture in a 1 Litre pudding basin or bowl that is lined with plastic wrap or baking paper. Ensure the mixture is fully covered with wrap and freeze overnight.
To prepare for eating, remove plastic wrap and tip pudding out of the bowl onto a serving plate and remove plastic wrap.
Pour over melted dark chocolate and decorate with fresh berries and mint leaves.
Tips
This recipe is easily doubled for larger gatherings and can be made up to two weeks ahead and left covered in the freezer at step 4.
*For a fructose free alternative to sugar, use 1/3 cup of dextrose. Dextrose is used in beer making so can be found in some supermarkets that sell home brewing products or alternatively at any homebrew shop.
**For the sugar-free version I used 90% cacao chocolate.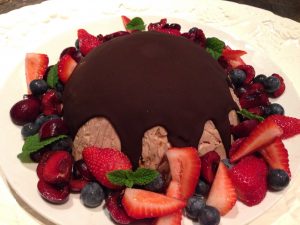 Carly xx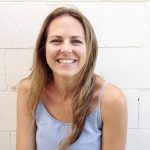 Subscribe now and receive 5 Ways to Save Time & Money in the Kitchen