This recipe for rocket, pear, parmesan & walnut salad is one of my favourite salads in summer. Equally as good with blue cheese instead of parmesan.
Serves 4-6 as a side
Rocket, pear, parmesan & walnut salad
Ingredients
3 large handfuls of rocket
1 pear very thinly sliced
100g parmesan cheese shavings*
2 handfuls of walnuts
olive oil to drizzle
1/2 lemon or whole lime squeezed
sprinkling of ground sea salt
Method
Arrange rocket on a plate or bowl and top with sliced pear, cheese and walnuts.
Drizzle over olive oil and juiced lemon and finish with a sprinkling of ground sea salt.
Serve with extra lemon wedges.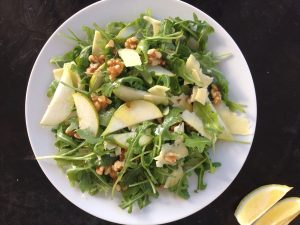 On a personal note…
This salad is also great as it is for lunch.
My favourite dishes to pair it with are pizzas, pastas or other Italian foods.
For a change, I love to swap the fresh parmesan for a creamy blue cheese or gorgonzola.
Use a vegetable peeler to make parmesan cheese shavings easily.
Carly xx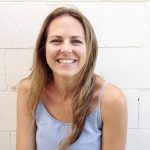 Subscribe now and receive 5 Ways to Save Time & Money in the Kitchen