A great starter or meal in itself, soup is a wonderful way to warm up in the cooler months. This recipe for Spiced Pumpkin & Sweet Potato Soup freezes well making it great for doing large batches and having in the freezer for a quick work lunch or late night quick meal. Nutritious and delicious.
Spiced Pumpkin & Pumpkin Soup
Ingredients
1 Tb oil
1 onion finely chopped
2 tsp ground cumin
1 tsp ground coriander
1 tsp ground or fresh ginger
1/2 tsp chilli powder (optional)
1/2 tsp sea salt
1.25kg chopped pumpkin & sweet potato
1 Litre of boiling water
3 Tb cream/coconut cream
Method
Fry the onion in the oil in a large saucepan over medium heat until soft.
Add spices and salt and fry until fragrant before adding the chopped pumpkin, sweet potato and Litre of boiling water. (ensure sweet potato and pumpkin is all covered by the water and if not either chop the veggies into smaller chucks or add extra water).
Bring to boil then lower temperature to a simmer and continue to simmer until veggies are soft.
Take off the heat when veggies are soft and allow to cool slightly.
Blend with a stick blender or in an upright blender. (Reheat in a saucepan if necessary.)
Stir in cream and season if necessary before serving.
Options, ideas and Tips…
For a more flavourful soup, double spice amounts. 
Thai spiced pumpkin soup: for something a little different, replace the spices with 1-2 tsp of red thai curry paste and add extra coconut cream to taste.
The 1.25kg of pumpkin and sweet potato was made up of 800g pumpkin and 450g sweet potato for the soup used in this photo.
Be warned putting veggies in an upright blender as they may explode due to the steam escaping. I once covered our kitchen in orange soup learning this lesson. A stick blender can be handy if you don't have the patience to wait for the cooked vegetables to cool.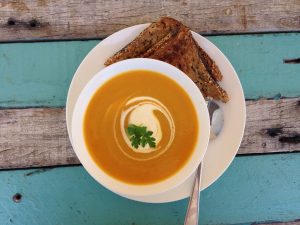 Hope you enjoy the warmth that this dish brings,
Carly xx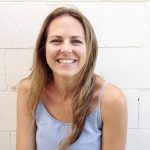 Subscribe now and receive 5 Ways to Save Time & Money in the Kitchen