Bliss balls keep for weeks in the fridge and are a perfect energy boost for mid-morning or afternoon. I always have a batch of some sort in the fridge and I generally try and mix it up to ensure we are getting a variety of different seeds and nuts. These are a few of my favourites.
My Top 4 Bliss Ball Recipes
Recipe 1: My Fave Cacao Bliss Ball
These are my fave as they are low in fructose.
Ingredients
1 1/2 cups of your choice of seeds and or nuts & coconut*
5 dates (use 10 if you find they are not sweet enough)
2 Tb raw cacao
3 Tb coconut oil as liquid
2 Tb rice malt syrup
optional 1/4 tsp vanilla, orange zest or even your favourite spice eg cinnamon, nutmeg etc
Method
Crush your combination of nuts, seeds, coconut and dates in a food processor, bullet or mortal and pestle.
Pour mix into a bowl and stir in cacao then coconut oil and rice malt syrup.
Roll into balls and refrigerate in an airtight container.
Optional: coat the balls in extra coconut, crushed seeds, nuts or cacao.
*For school lunches use a combination of seeds and coconut (no nuts). Nut Free Bliss Ball Recipe can be found here.
For this photo, I used 1 cup of cashews, and 1/4 cup each of sunflower seeds and coconut blended.
On a personal note….. I make these differently every couple of weeks just using a different combination of seeds, nuts and coconut. They always work out well regardless of what you use so just experiment and find your favourite. Walnuts and almonds are my main go to then I bulk out with pepitas or sunflower seeds.
This recipe includes a small amount of dates which are high in fructose so they are not as 'decadent' as some in the shops and other recipes however your waistline will thank you! I just use ordinary packaged dates in the dried fruit section as they are about 50 times cheaper than fresh dates.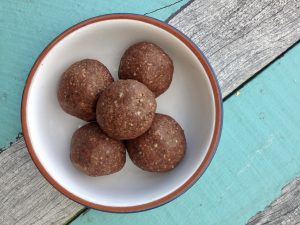 ---
Recipe 2: Basic Bliss Ball- high in magnesium
Ingredients
1/2 cup almond meal
1/4 cup pepitas ground
1/4 cup sunflower seeds ground
1/2 cup apricots minced (Turkish apricots work best)
1/2 cup desiccated coconut* (extra for coating)
2 Tb honey or rice malt syrup
2 Tb tahini
* For an extra magnesium hit use 1/4 cup LSA and 1/4 cup coconut
Method
Place all seeds, nuts and apricots in a food processor and blend together.
Add honey and tahini and blend again.
Roll small balls then coat in extra coconut if desired.
Refrigerate in an airtight container.
Alternate Method
If you only have a small bullet then blend each dry ingredient one by one and pour into a large bowl.
Mix blended dry ingredients all together and stir in the tahini and honey.
Roll small balls then coat in extra coconut if desired.
Refrigerate in an airtight container.
If you are blending ingredients one by one in a bullet style processor then make sure you add some seeds or nuts in with the apricots otherwise they will just become a sticky clump and not chop finely.
On a personal note… I set out to make this recipe after a series of leg cramps during pregnancy. I discovered that you can easily combat muscular cramps with extra magnesium which is found in a number of foods including almonds, tahini, linseeds, pepitas and sunflower seeds. So I created this recipe and amazingly they kept the cramps at bay. The result was so yummy that they have stayed on our snack menu ever since.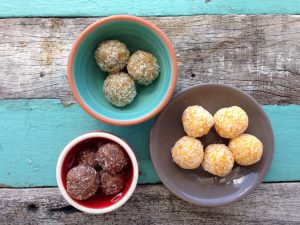 Recipe 3: Bittersweet Walnut Balls
These tasty treats contain lots of good fats and they are a nice alternative to dark bittersweet chocolate particularly for those who are sugar-free. This is my favourite afternoon snack.
Ingredients
2 cups walnuts
1/2 cup sunflower seeds+ extra if needed
5 dates ground
1/2 cup raw cacao
1/4 cup coconut oil
1/4 cup rice malt syrup
Method
In a mortar and pestle or food processor grind walnuts until they are mostly ground with a fair few chunks still intact.
Place sunflower seeds in a food processor and grind to a powder then add the dates and continue to process until finely chopped.
Mix the coconut oil, cacao and rice malt syrup into the walnuts then add the sunflower seed mix. If the mixture is too wet, grind up some more sunflower seeds and add until the mixture is able to hold form.
Roll mixture into balls and refrigerate.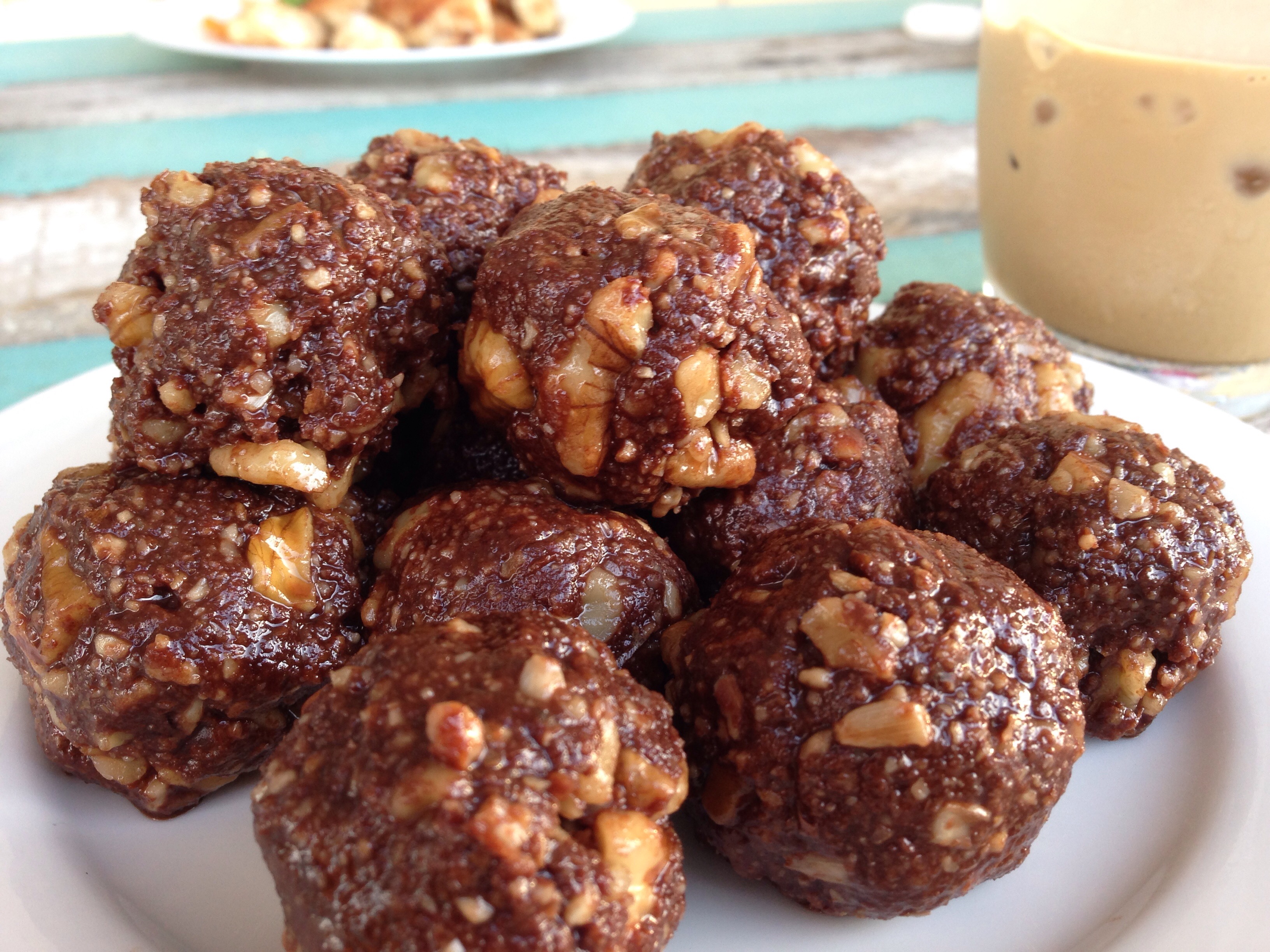 _________________________
Recipe 4: Apricot & Coconut Balls:
Two ingredients? Too easy! 
Ingredients
1/2 cup apricots minced (Turkish apricots work best)
1/2 cup desiccated or shredded coconut* (extra for coating)
Method
Place apricots and coconut in a food processor or bullet and blend together.
Press mixture together to make small balls or cubes then coat in extra coconut.
Refrigerate in an airtight container.
Apricot and coconut balls keep for weeks in the fridge. Easily make up a larger or smaller amount by using equal quantities of apricots and coconut.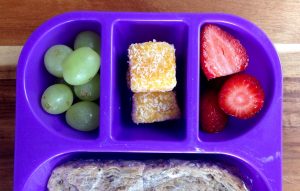 Happy snacking,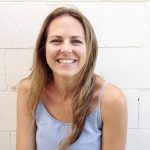 Subscribe now and receive 5 Ways to Save Time & Money in the Kitchen