The only pizza dough recipe you'll ever need.
Homemade Pizzas are a tradition on Friday nights when we are home. They are so good (and cheap to make) that we never ever bother ordering pizza.
This recipe yields four thin, traditional pizza bases or three soft, thicker bases.
Homemade Traditional Pizza Dough
Ingredients
2 1/3 cups plain flour (plus extra for rolling dough out)*

1 cup lukewarm water

2 tsp yeast (or one sachet) 

2 tsp olive oil

1 tsp salt

0-1 tsp raw sugar (0 gives a crispier flatter dough, 1 tsp lighter fluffier dough and 1/2 tsp somewhere in between)**
*I often use a mix of 1 cup plain flour and 1 and a half cups of wholemeal flour. Wholemeal and spelt flours are not as dense in the pack so you have to use more or else the dough will be sticky. When I make a wholemeal spelt base I use 3 cups of wholemeal spelt flour and when making a whole meal base I use 2 1/2 cups. Quite often we do a half half too. It's just a matter of trial and error adjusting the base recipe.
**Personally I like the results of the no sugar dough. I find the dough burns more easily with the sugar content even though it's a small amount. But if I want a fluffier end result I add in the sugar.
Method for Breadmaker
Put flour and salt into bread maker.
Put water, yeast and sugar (if using) in a bowl, stir and leave for 5 minutes until it begins to froth.
Pour yeast mixture into the breadmaker, add oil and set to dough setting.
When complete, tip the pizza dough onto a heavily floured surface and shape into a log shape. I use baking paper on the bench to prevent sticking, mess and to assist with the transfer of pizza onto pizza oven, tray or BBQ.
Cut pizza dough log into small balls depending on the number of pizzas desired (4 thin or 3 thick).
Roll out each dough ball with a rolling pin*
*A wine bottle doubles as a good rolling pin if one is not available, or alternatively hand stretch the dough. If hand stretching divide the dough into 2-3, not 4 as it is harder to get really thin.
Method without a Breadmaker
Sift flour into a large bowl and add salt and make a well in the middle.
In a smaller bowl mix water, sugar (if using) and yeast and leave for 5 minutes until it starts to bubble.
Pour yeast mixture into the flour, add oil and begin to mix in.
When it begins to form a dough, tip onto a floured bench and begin to knead it into a ball.
Knead for 5 minutes or longer if you can.
Place dough ball back into the bowl and cover with a wet tea towel and place in a warm area**
Cut dough log into smaller balls depending on the number of pizzas desired (4 thin or 3 thick).
Roll out each dough ball with a rolling pin*  Use baking paper to prevent sticking, mess and to assist with transfer of pizza onto pizza oven, tray or BBQ.
Tips
**In the winter, to create a warm space for the dough to rise, heat an oven to 100C then turn it off and allow to cool a little before putting the bowl of covered dough in.
Pizza dough freezes well in a ziplockk or freezer bag. Just take the frozen dough out of the freezer out a couple of hours before so they can defrost.
I generally use home brand plain flour for this recipe. I recently used OO flour and found that I needed an extra 1/3 cup more flour as it is lighter so the dough was too sticky.
My advice is to always use the same flour and just play around with the amount of flour that you need. If the dough is wet then you will get doughy bases as opposed to light crispy bases. If it is too dry then it becomes hard to roll out. Some brands of flour you may find you need to use 2 and 1/3 cups others up to 3 cups. Play around and then stick to what works based on the brand and type of flour you regularly want to use.

You will need to use a little more flour if you are using sugar in the dough as it is slightly stickier.
To be inspired with different toppings see below: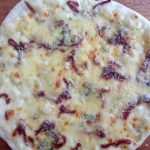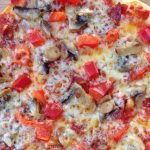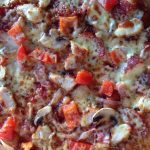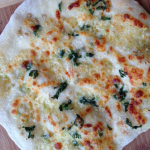 Your Friday's will never taste the same!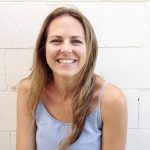 Subscribe now and receive 5 Ways to Save Time & Money in the Kitchen