Super quick and easy to prepare, this recipe for Mexican Chicken is perfect for nachos, burritos, tacos, enchiladas, or Mexican rice bowls. 
This Whole Foods Mexican Chicken recipe is my spin on the packet version commonly found in supermarts. The supermarket versions are full of nasties and in my opinion, this version is much tastier and better for you minus all the additives. The bonus is by cooking from scratch you can make double batches easily to stock your freezer. Check out my tip below for making amazing Enchiladas.
Whole Foods Mexican Chicken
Ingredients
1 Tb oil
2 small onion diced
4 chicken breast diced (approx 1kg)
2 tsp cumin
2 tsp coriander
1/2 tsp chilli flakes (optional)*

2 tsp dried oregano

2 tsp paprika
800g chopped tomatoes (tin or fresh)
4 cloves garlic crushed
1 tsp ground sea salt or to taste
Method
Heat oil in a frypan and fry onion and chicken until brown.
Add all dried herbs and spices and fry for 30 seconds or until fragrant.
Add tomatoes and garlic and stir until it comes to the boil.
Simmer until chicken is cooked through and sauce has reduced.
Tips
For Enchiladas- simply roll up the Mexican Chicken mix in corn style mountain bread and place in a baking tray. Top with salsa, sour cream and cheese then bake until brown. 
Spicy version: Add and extra 1/2 tsp chilli flakes.
With beans: Add 1/2- 1 can of kidney beans at the tinned tomato stage if you like beans.
For the Freezer: This recipe is easily doubled or tripled if cooking for more people or to make extra meals for the freezer.
Let me know how you go!
Carly xx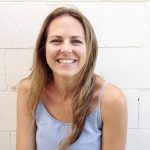 Subscribe now and receive 5 Ways to Save Time & Money in the Kitchen