This slow cooked pork belly recipe was inspired by a dish at one of our favourite Greek restaurants. It definitely fits the 'special occasion' category in our home and it is perfect for dinner parties. The lemony leeks perfectly offset the richness of the pork and the results are divine. The preparation is well worth it.
Greek Pork Belly with Lemony Leeks
Ingredients 
1kg pork belly (rind on and scored)
3Tb extra virgin olive oil
2 Tb sea salt
4 leeks
3 Tb lemon juice
extra lemon juice and olive oil for garnishing the dish
Method 
Preheat the oven to 220C. Using a sharp serrated knife, gently score the skin of the pork belly, making even, 2mm cuts, 1cm apart.
Use 1 Tb of the oil to run into all sides of the pork then do the same with the salt rubbing the majority of the salt into the rind. This will help create a crispy finish on the pork.
Place the pork in a tray that is as close fitting to the size of the pork as you can find. Roast in the oven for 40 minutes or until crackling starts to form.
Add enough water to cover up to the rind around the sides then reduce the oven temperature to 190C and continue cooking the pork for two hours. (You can also try using a cider such as an apple or pear cider instead of water. Alternately, add a fragrant spice to infuse the pork such as cinnamon, cloves or star anise for a special touch).
Take pork out of the oven, drain off the water and place something heavy on top of the pork to press it down to help set the correct shape. Do this for 6 hours or overnight in the fridge for best results. (This is not an essential step but it does make a difference to the final presentation.)
Take pork out of the fridge and cut into 2cm-thick slices with a sharp serrated knife.
Preheat a char-grill, or hot frying pan lightly oiled. Then begin cooking the pork in batches turning as each side is crispy and golden. This step will help continue to drain off some of the extra fat and create a lovely crispy finish.
While you are frying the pork prepare the leeks. Wash them thoroughly to remove any dirt then cut them in half lengthways and then in 4cm slices. Heat the remaining olive oil in a medium pan on medium heat then add leeks and saute until soft before adding the lemon juice and reducing this liquid. Season with salt. For presentation, purposes try not to let the leeks brown. You want them just soft and still quite vibrant in colour.
To serve place leeks on a plate, top with pork and drizzle with a little extra olive oil and lemon juice.
On a personal note...
I love this dish with sweet potato mash or alternatively with a fresh crunchy salad or crunchy 'just cooked' green such as beans, snow peas, broccolini.
It is quite rich so a little goes a long way.
The cooked pork will freeze, defrost and heat well meaning you can have a fancy dinner mid-week with minimal effort. My recent travels to Vietnam have me dreaming of tucking the pork into a french bread roll complete with fresh herbs (mint, coriander) and some thinly sliced cucumber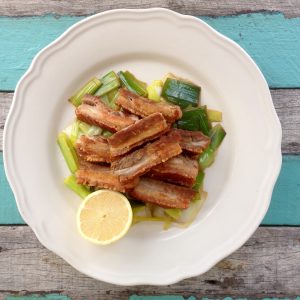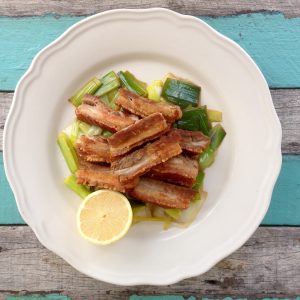 Until next time happy cooking,
Carly xx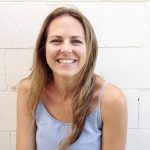 Subscribe now and receive 5 Ways to Save Time & Money in the Kitchen