Chicken and corn dumplings arrived on our dinner table as I attempted to widen my daughter's love of meat and three veg meals. She's the best at eating most veggies and meats, just don't mix anything together to create a 'dish' or she won't eat it.
These dumplings are my attempt at putting familiar ingredients together to push the envelope a little. Swapping pork mince for chicken mince, and water chestnuts for corn kernels, the results are a yummy interactive meal for the whole family. Thanks to Vita for providing the original 'Asian dash' recipe inspiration.
I've feel as though I've arrived as a parent. My child now has a rotation on non mainstream faves including Spinach and Ricotta Cannelloni, Spaghetti Bolognese, Tacos, and now dumplings. I couldn't be prouder.
*For a low carb version, you can pan fry the dumpling mix separately into little patties similar to a fish cake.
Chicken and Corn Dumplings
Ingredients
500g chicken mince
1/2 cup frozen corn kernels
1 egg
1Tb fish sauce
1 Tb sesame oil (use half the amount for pork mince- chicken mince is naturally leaner so it needs the extra fat for texture)
garlic clove crushed
1 tsp ginger grated
2 Tb fresh coriander chopped
1tsp cornflour
1 pack wonton wrappers
Method
Mix all ingredients together in a bowl and put a large pot of water on the stove to boil.
Add a spoonful of mixture to a wonton wrapper, lightly wet the edge and press down with a fork. (at this point I admit this version is a hybrid ravioli method, but I like it as you get more filling and less wrapper. If you want to be more legit buy dumpling wrappers follow wrapping instructions on YouTube.
When water is boiling add dumplings to the pot and turn put down to a simmer. Be careful not to overcrowd the pot.
Using a strainer, check a dumpling at around 8 mins cooking time. If the wonton wrapper needs a little more cooking cook for another 1-2 minutes, or if they are ready take them out.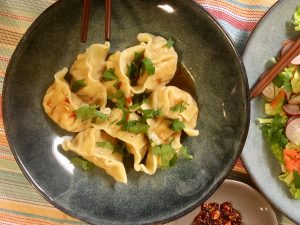 Dumplings freeze well uncooked. To cook simply place in boiling water frozen and add an extra 4-5 mins cooking time.
For a quick, easy dumpling sauce check this recipe out. Only four ingredients.